February 27th at 8:15 AM:
Please join in the TIS cafeteria for a We R-1 sponsored discussion on parenting in the age of technology.  Our children are currently growing up surrounded by technology, which creates new and sometimes unforeseen challenges in raising children.  Therefore, this discussion will be designed to provide parents with effective tips and answer questions in regards to raising children in a culture imbedded with technology.  We will address issues such as: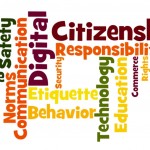 What are a parent's responsibilities in regards to technology?
Are cell phones a good idea and how do we regulate their use?
When and how should I check my child's history on devices?
Creating responsible digital citizens.
Dealing with cyber bullying.
Image Credit: http://dcp.lbpsb.qc.ca